About 45% to 75% of the energy in the waste water treatment plants is consumed in the aeration units which causes significant operation and maintenance cost. Therefore utilizing efficient diffusers plays a key role in minimizing the operation expenses. Aqua Consult company (founded 1986), created Aerostrip diffusers with the aim of lowest energy demand and longest lifespan.
The membrane of Aerostrip diffusers are made of Polyurethane which is much stronger than EPDM and this results in long lasting diffusers that do not lose their performance over the years.
The thickness of the membrane is about 0.6 mm (which is about one-third of epdm membranes) does not allow any room for the deposits inside the membrane.
Diffuser Application
| | |
| --- | --- |
| Mixing with air | De Ammonification Reactor |
| Activated sludge treatment | IFAS (Integrated fixed film activated sludge) |
| Aerobic sludge storage | Aquaculture |
| Granulated sludge treatment | SBR (Sequencing Batch Reactor) |
|   MBBR (Moving Bed Bio) | MBR (Membrane Bio Reactor) |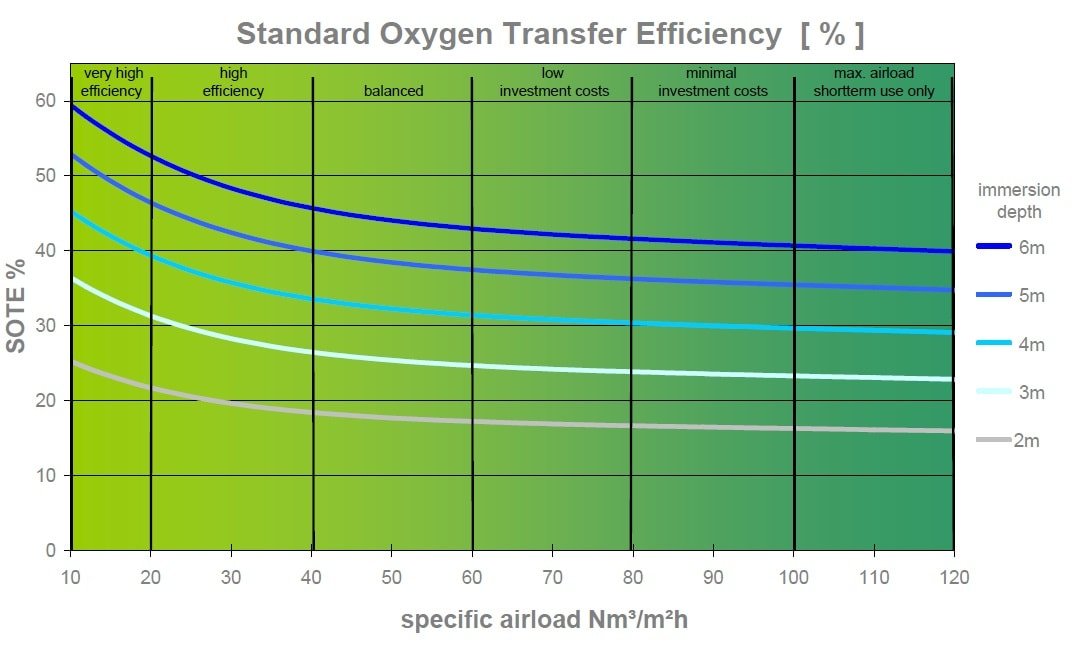 Features:
Aerostrip diffusers can handle a wide range of flux (from 10 to 120 Nm3/m2.hr) and this is the widest range in the industry.
Fine bubble production, Standard Oxygen Transfer Efficiency up to 60 %.
Standard Aeration Efficiency up to 5 kg O2/ kwh
lifespan of 15 years (tested up to 20 years(
Advanced Layout (without the spiral flow)
Utilisation of full water level (Higher Oxygen Transfer)
Product range:
For wastewater with temperature less than 30°C, Type Q with PVC frame.
((Type Q Catalogue))
For wastewater with temperature higher than 30°C, Type T with Stainless Steel frame.
((Type T Catalogue))
Installations:
Fixation directly to the floor.
Height adjustable fixation (if the tank floor is sloped)
Lift able and fixed in a substructure
Some of the projects that accomplished are as follows:
 SÖLDEN, Austria
Sölden, one of the famous ski resorts in the world, is situated in the Austrian Alps.
Number of tanks: 4
Total Volume: 8,448 m³
Water Depth: 8.0 m
SOTR Standard Oxygen Transfer Rate: 2,800 kgO2/h
Total Airflow: 20,640 Nm3/h
No. of AEROSTRIP® Diffusers: 880
Operation range of AEROSTRIP® diffusers is 0 up to 120 Nm³/h per m²diffuser. This extremely high turndown ratio allows for high fluctuations in oxygen demand, as required at this particular installation, to be met. Guaranteed figure for Standard Oxygen Transfer Efficiency (SOTE) was 45% at a flux of 40 Nm³/h per m²diffuser. Tested SOTE proved, that performance of AEROSTRIP® diffusers even exceeded system requirements.
The following figure shows design values and guaranteed values of the STOS percentage relative to the air flux.
Avedore (Denmark)
Avedøre is part of the suburbs in the south-west of Denmark's capital Copenhagen. The Avedøre WWTP was built on reclamation ground in 1968 and treats sewage water from at the catchment area of approx. 86km² resp.
Number of Tanks: 4
Total Volume: 80,000 m³
Water Depth: 3.5 m
SOTR Standard Oxygen Transfer Rate: 4,270 kgO2/h
Total Airflow: 58,720 Nm3/h
No. of AEROSTRIP® Diffusers: 1,600
The biological stage of Avedøre STP was originally built as an oxidation ditch, equipped with surface rotors for aeration.
First of all, prefabricated piping and the use of AEROSTRIP® snap fasteners for diffuser mounting reduced installation time to a minimum. Furthermore, AEROSTRIP® guaranteed energy savings of 38.5%, or 1,940,000 kWh per year. Operational figures of AEROSTRIP® indicate even higher values: Current energy savings are~42.5% which means 2,140,000 kWh per year! Figure 11 shows energy savings by year.
The Central Kitsap facility started operations in 1979 as a conventional activated sludge secondary treatment plant. The plant receives wastewater from the cities of Silverdale, Keyport and Poulsbo, the Central Kitsap area, the Naval Submarine Base Bangor and the Naval Undersea Warfare Engineering Station (NUWC) at Keyport.
Number of Tanks: 4
Total Volume: 13,080 m³
Water Depth: 4.75 m
SOTR Standard Oxygen Transfer Rate: 1,240 kgO2/h
Total Airflow: 10,800 Nm3/h
Total AEROSTRIP® Diffusers: 1,214
To confirm the high performance of the new aeration system, a Clean Water Oxygen Transfer Test was required and conducted by a third party at the AQUACONSULT test facility in Austria.
Figure 12 shows the Specific Standard Oxygen Transfer Efficiency relative to specific air flow rate.
In addition, the following project was accomplished .
Targoviste Refinery
Capacity: 20,000 cubic meters per day
Date of Operation (No Replacement): 2012 until now

Ruzomberok Refinery
Capacity: 140,000 cubic meters per day
Date of Operation (No Replacement): Years 2012-1997 Figure 14