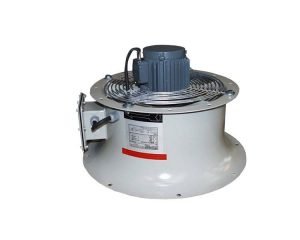 Axial fan, design D
• size 800
• casing thickness 10 mm
• spark lining between impeller and casing,
• EEx de flame proof motor
• inlet grill, air volume 30,000 m³/h,
• rated power 20.0 kW.

Axial fan, design B
• size 800 mm
• casing thickness 10 mm, with inlet cowl
• inlet grill and pneumatic fire damper
• The impeller and motor can be swung out for ease of maintenance
• Air volume 40,000 m³/h, rated power 13.0 kW


Since the foundation of our company in 1955 we have supplied more than 12.000 ships with -fans. This means that at least every 10th merchant vessel worldwide is equipped with –fans. A major part of the remaining merchant fleet has been supplied by license partners in e. g. Japan, Korea, Spain etc. This success is based on the continual improvement of our products so that they can live up to the rugged conditions on board.
Fan types: Axial or centrifugal (single/double inlet)
Inlet size: 63 to 2.500 mm
Volume flow rate: Up to 500.000 m³/h
Pressure: Up to 50.000 Pa
Temperature: Up to 850 °C
Drive types: Direct, elastic coupling or belt drive
Advantages of -Fans for ships
Complete programmer of axial- and centrifugal fans
Very small dimensions (see dimension sheets)
High efficiency
Low noise levels
Low vibration levels in the specified control range
Quick and efficient order processing
Quality assurance programme according to
ISO DIN 9001
Good value due to modular construction
Mushroom cowls
Jet cowls
Damper/Fire dampers
Vibration attenuators
Connecting ducts
Sound insulation chambers/silencers
Flexible connections
Counter flanges
Single or multi-stage
Gas-tight
Explosion proof
Adjustable (variable inlet vanes,
frequency modulated)
Shock and vibration proof
Materials: Steel, aluminum, stainless steel, a. o.
Surface: Hot dip galvanized, Primer/finish, powder coated,
Test procedures: Test rig acc. to DIN 24163