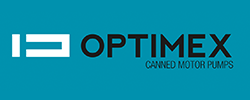 Introduction:
Optimex as French Company founded in 1998 in collaboration with Ensival Moret company to manufacture sealless Canned Motor Pumps.
These pumps are manufactured in accordance with  API 685 and ISO-15783 standards operating in applications such as chemical, petrochemical, mineral, oil & gas and nuclear industries. They could handle fluids with toxic, corrosive, flammable and explosive property, at very Low NPSHA, very cool temperature (-200◦centigrade) and very hot temperatures (up to 600 ◦ centigrade).
TOTAL, EDF, BASF, SANOFI, TECHNIP are the only some examples which Optimex collaborates with them for projects.
Certificates :
ISO-9001 and NF-EN13980
Manufacturing the products in compliance with following protocols:
• Machine-98/37/EC
• Electric Equipment-2006/42/EC
• Electromagnetic compliance-86/336 & 2004/108/CE
• ATEX-94/9/CE,99/92/CE,2014/34/UE
• Pressure Equipment-97/23/CE