Water & Wastewater treatment:
Benefits of INGE UF for waste water treatment:
Maximum stability – zero fiber breakage,
Long service life and high availability
Consistently high level of filtrate quality
Membranes tolerate a wide pH range and are exceptionally easy to clean
Reliable removal of microorganisms and viruses
The perfect pre-treatment technology upstream of reverse osmosis
Maximum removal of nutrients
Technology:
Inge UF technology is based on In-to-Out filtration with pressurized modules, utilizing modified Polyethersulfon (PES) as membrane material. With a pore size of approximately 0.02 µm PES membranes offer real UF and the patented Multibore setup combines 7 capillaries into one fiber for highest mechanical strength and excellent cleaning properties. The UF cleaning process is easy to operate. With an integrated control unit running the entire UF process including filtration, cleaning and backwash stages, the cleaning procedures are most efficient with high backwash flux rates, minimum application of cleaning agents and no need for air scouring. Thus, In-to-Out UF systems support sustainability with minimized energy and chemical consumption.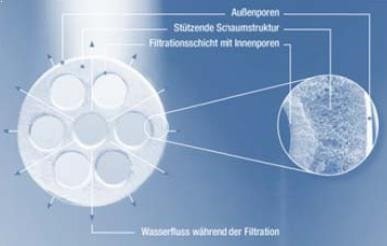 Nowadays worldwide trend is to change Out-to-In configuration to In-to-Out filtration mode.
Sewage water treatment plant for Jebel Ali Dubai
Secondary municipal effluent was further recycled and treated to provide a source of irrigation. Ultrafiltration was chosen as a water purification method due to its excellent performance and competitive economics.
Treatment objectives:
Based on the high TSS loads in the feed water drawn from the secondary effluent, the decision was taken to use inge®'s Multibore® 1.5 membrane – featuring capillary diameters of 1.5 mm – due to its ability to handle high solids loads. The objective of the UF system was to achieve treated water quality targets of turbidity < 0.1 and BOD < 0.1. In comparison to sand filtration, inge® Multibore® ultrafiltration produces consistently high-quality water regardless of fluctuations in raw water quality.
Feed water parameter
| | | |
| --- | --- | --- |
| parameter | unit | UF feed water |
| Turbidity | NTU | 10-65 |
| TSS | Mg/l | >200 |
| TOC | Mg/l | 6 |
Performance
Flux                 46 l/m2h (27 gfd)
TMP                   0.1 – 0.25 bar (1.5 – 3.6 psi)
Backwash              Low chemical consumption: caustic CEB (chemical enhanced backwash) once a day, acidic CEB twice a day
CIP                         First CIP performed after 18 months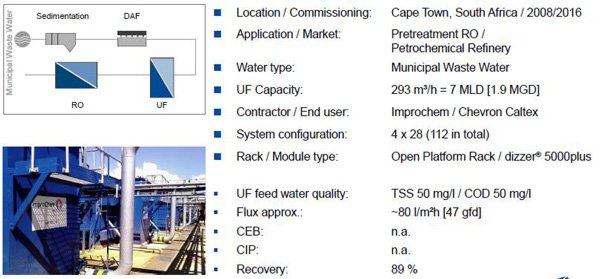 Drinking water:
In the past, sand filtration was the standard method of water treatment. Similar to the natural water cycle.
Ultrafiltration is superior to sand filtration thanks to its consistently high levels of quality and purity
The biggest advantage of ultrafiltration is that the filtered water always maintains consistently high levels of quality and purity regardless of the level of contamination of the raw water. The same cannot be said of sand filtration: Heavy rainfall, floods or contaminants in the water supply can mean that the sand is no longer capable of retaining all the dirt particles. In contrast, ultrafiltration is not dependent on external factors – which means it can provide consistently high water quality.
Ease of operation is another major benefit. Ultrafiltration systems can be operated fully automatically with an integrated control unit running the entire ultrafiltration process including the filtration, cleaning and backwash stages.
Benefits of inge® UF for drinking water treatment:
Reliable removal of microorganisms and viruses
Consistently high level of filtrate quality
Maximum stability – zero fiber breakage
Long service life and high availability
High performance with low operating costs
City of Luxembourg invests in clean drinking water:
The water supplied to the Birelergronn  water treatment plant in Luxembourg comes from a total of 14 sources and is collected and temporarily stored in a reservoir that consists of four separate chambers.
Treatment Objectives
The untreated water at the Birelergronn water treatment plant occasionally exhibits microbiological impurities and elevated levels of turbidity The first stage of the plant features 36 dizzer® 5000 plus modules arranged in two racks, each of which provides a treatment capacity of 1,680 m³ a day. The plan is to incorporate further water sources in the treatment process at a later point in time. Plans have already been drawn up for a further stage which would then feature a total of 44 modules in two filtration lines and an overall capacity of 4,320 m³ per day
Performance
The design flux of the UF system is 81.8 l/(m²h) in the first stage. When the final stage is reached, the flux rate of 82.4 l/(m²/h) will be achieved at a typical operating pressure of between 0.2 and 0.3 bar (transmembrane pressure). After a given number of filtrate wash cycles, a chemically enhanced backwash is performed once a day. The acid wash water has a pH of 2.5 and the alkaline wash a pH of 12. The system is rinsed out after allowing 10 minutes for the wash to take effect.