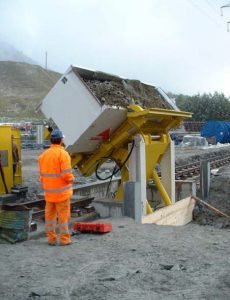 Railcar Dumping Systems
Muhr company has superior capability for manufacturing, installing and after sale service for big steel structure. Railcar dumping is one of the product of this company in steel and mineral field. The Muhr railcar dumping system is highly efficient equipment for all conceivable balk unloading applications, especially application for rapid automatic unloading of railcars. Individually concepted for the client. This highly economic, multifunctional usable unloading system can also be used for special applications.
Advantages:
Open building method at the top. à No height restrictions for railcars
No obstruction or stricture for the material flow.
Extremely compact construction. à Small space requirement.
Depending on the railcar layout the railcar need not to be decoupled.
Low energy consumption because of the advantageous stress distribution.
Variable for numerous applications.
Transport and assembly-friendly layout by segment construction method.
Low maintenance.