Neuros company by contribution with USA space agency NASA, has produced the most advanced generation of Air Bearing technology for his turbo blowers which was used only in jet aircraft before. One of the big advantages of Neuros turbo blowers is power saving up to 50% thanks to its higher efficiency in comparison to positive displacement blower. Neuros turbo blower needs no lubricating oil and is 100% oil-free and maintenance-free due to non-contact air bearing.
Production range:
Inlet flow rate capacity: 9 to 532 m3/min
Outlet differential pressure: 0.3 to 1.0 Bar
Turn down ratio: 45 %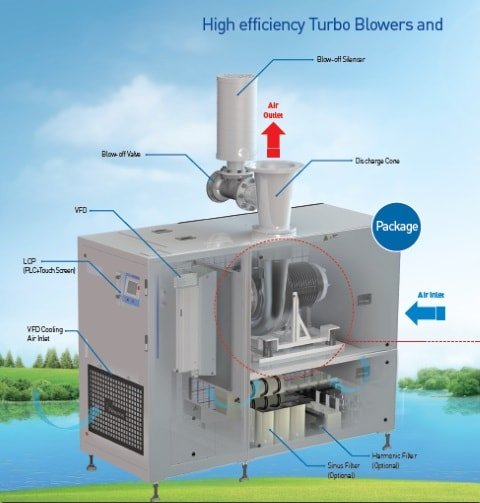 Features:
Contactless operation of bearing with no friction by using air bearings.
Rotational speed 10,000 to 100,000 rpm
80 % lower maintenance cost comparing with positive displacement blowers.
No need to foundation and a 70% reduction of installation costs
Reduction in electrical consumption by 50% comparing with positive displacement blowers.
55% lower foot print comparing with positive displacement blowers.
100% Oil-Free operation.
Low noise level under 85 dB(A) and very low vibration
High efficiency up to 75%
Better performance in hot areas thanks to the lower outlet temperature.