Producing industrial water in Power plants:
Water often required to have – or specifically not to have – very specific properties, especially when it comes to industrial applications. The properties of water can be deliberately modified to meet the technological requirements of various industrial processes. For example, solids can be removed from the water using methods such as de-icing, softening and desalination, other agents can be added, or the water's parameters, such as its pH value, can be modified.
The fact is that some components of water can cause significant damage to systems and processes in industrial applications if the potential risks are not taken into account. For example, cooling water must be modified so that it is suitable for use in refrigeration units, while the water for steam turbines must be completely desalinated to prevent corrosion from damaging the boiler.

Benefits of INGE® ultrafiltration for process water treatment:
The perfect pre-treatment technology upstream of reverse osmosis
Consistently high level of filtrate quality
Long service life and high availability
Low maintenance costs
Compact footprint of UF system
High performance with low operating costs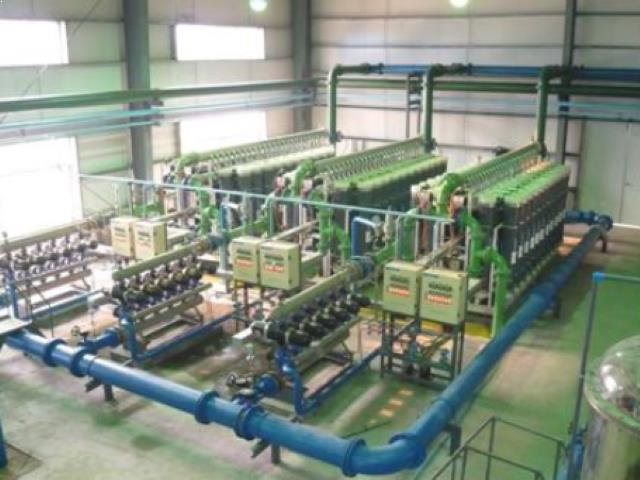 Reclamation of cooling tower blowdown for use as boiler feed water:
All power plants requires to optimize their water balance, reduce water intake, recycle water as much as possible and minimize water discharge (zero discharge requirements). Yuling power is located in the northwest of China, a region that is known for its water scarcity. Based on a comprehensive study, the end user decided to use inge® UF Multibore® membranes as a pre-treatment stage for RO in a project designed to reclaim cooling tower blowdown for use as boiler feed water. This project has significantly reduced the total plant water intake and water discharge rates. The plant has saved approximately 3 million cubic meters of fresh water a year since the UF system came online, representing a major economic benefit for the end user.
Treatment Objectives:
Cooling tower blowdown is characterized by high turbidity and high COD and colloidal content. It is therefore necessary to use coagulant, an accelerator clarifier and dual media filter to ensure consistent feed quality for the UF-RO stages.
The objective of the UF system is to achieve treated water quality of SDI < 3.0, turbidity < 0.2 NTU in order to ensure stable RO operation.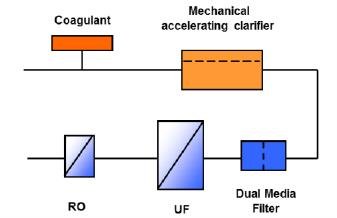 Performance:
The design flux of the UF is 55 l/m2h with typical operating pressure stable at 0.2 – 0.3 bar across the membrane (transmembrane pressure).
The UF stage has demonstrated excellent performance, providing good water quality with turbidity < 0.2 NTU, COD < 30 mg/L, SDI < 3. CIP was introduced for the first time after one year of operation.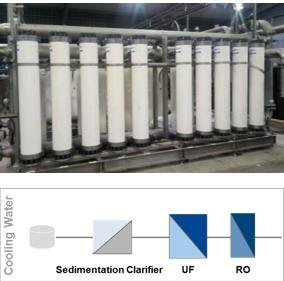 another reference:
South africa, cooling water, Power plant
• Capacity: 320 m3/h
• Operatio year: 2008
• Uf feed analyze:
• Turbidity < 20 NTU
TSS 7 – 25, TOC < 10